Photos by Brian Lloyd and Others
Singapore, Singapore, 21-25 June 2017:
People keep asking me what the best part of my trip has been and I just realized that I finally know the answer. The answer is …  The people I have met who have helped me on my way. This trip would not be possible without them.
Lloyd's Log
Sorry for not writing more. I have been a bit under the weather. (No, you do NOT want details!) Suffice it to say that I can't be too far from a bathroom. Last night and earlier today were the worst. I think I am finally getting better tho'.
But I have time to get better. No, the replacement magneto did not get here today. The replacement magneto is not even coming from the US. (Surprise!) Yes, I certainly was when I learned that it had never been ordered. But all is not lost.
I am very fortunate to have met Rohan Lloyd here. Rohan (no relation, probably, but who knows) is a Ferry and Charter pilot from Australia who just happened to be here in Singapore with his Piper Seneca twin-engine airplane doing a charter. Interestingly, the Seneca just happens to have the same engines as Spirit and hence uses the same magneto. He also has spare parts. So he has shipped his spare magneto to me from Australia, which I should receive here on Monday, but more probably Tuesday. That means that Spirit will be ready to fly again Tuesday. That probably means that I will be on my way again Tuesday afternoon or Wednesday.
Rohan lives near Bainbridge so I will be able to stop in and give him back his magneto and pick up my repaired magneto. He has taken my failed magneto with him and he will endeavor to get it repaired for me over there and ready for me when I fly through. http://www.imageair.com.au
This is what it has been like my entire trip, people going out of their way to help me. Thank you Rohan!
It looks like it may be possible to get a new set of Indonesian permits in a more timely fashion. I am waiting to hear back from the people there. Please keep your fingers crossed that I will be allowed to travel on Monday, Tuesday, or Wednesday depending on when the mag gets here from Australia.
Bad news. Very bad news. Spirit has a failed right magneto. Spirit can't fly until we find a replacement. So I'm stuck in Singapore for the time being. For my pilot and mechanic friends, we have checked the obvious stuff. The P-leads and timing are OK. Points are opening. Impulse couplings are both firing at the same time. That tells me that the coil is bad. <insert a string of bad words here>
Well, the replacement magneto is on its way. The hope is that it will arrive, FedEx Express, tomorrow afternoon, and I can be on my way again the following day. The Indonesians are being a bit … picky. I have been reminded several times today that my permits are for June 22-26 only. I may be spending only one day in Jakarta. skipping Bandung, and one day in Kupang in order to be able to leave Indonesia by June 26.

I guess its time to tell the Aussies that I'm coming.
Spirit with her cowling off, getting ready for some work.
Cedric working on tightening the exhaust nuts.

Waiting for the magneto to arrive, hopefully today. Going to get some breakfast and hope I keep it down. I have been sick for a couple of days now. I thought I was getting better by yesterday afternoon but last night was not good. The saving grace is that I was able to sleep in this morning. I'm thinking that I shouldn't have had the chili crab. It's all on you Pappy!

The HF has gone out again. I am pretty sure it is a vibration issue. I'll pull it and reseat all the internal connectors again. I think I need to add another brace to it.
Lloyd's Log
I am sorry but today's post is going to be short. But tonight I am tired and not feeling well. I need to go to bed early and sleep.
The flight across the Gulf of Thailand was beautiful. The thunderstorms started popping up over the land. I had some deviating to do again and the Stormscope was lit up like a neon sign. I did manage to "thread the needle" but the final approach into Singapore was in poor visibility.

The stormscope was showing weather in the direction I was going but some radial spreading meant I really couldn't tell how far away it was. Fortunately I could see all the airliners streaming in along my path and they weren't deviating so I felt it was OK to follow the pack. It was. Visibility wasn't great but I got vectored onto final and no problem. There is no instrument approach at Seletar airport. The "approach" plate is rather interesting. I have attached as an oddity for the pilots out there.

But I am in Singapore. We got about halfway through maintenance on Spirit today. We have already changed the oil and filter, and pulled and inspected the spark plugs.

And the spark plugs look just about perfect too! The engine is running perfectly.

Oil filter opened and cut. There wasn't a trace of anything in the filter. Nothing. (This is good!)
I noticed the very beginning of an exhaust leak on the #1 cylinder (just the barest hint) and so put a little more torque on the exhaust nuts. Plugs look nearly perfect. We'll finish up cleaning the plugs tomorrow, refill the oxygen system, and button her back up. The plan is to leave about mid-day for Jakarta. The flight will be about 3.5 hours.
I've met some great people. I'll post some more tomorrow.
We'll finish in the morning and I'll be on my way around noon.
In flight, Bangkok to Singapore, 21 June 2017:
Geez. I just couldn't get a break today.
Foreflight showing all the traffic along my route. The numbers show the relative altitude to me. Positive numbers are hundreds of feet above me and negative numbers are hundreds of feet below.
Believe it or not, I ended up going through that gap at about 10 o'clock. It would show more clearly on a lower scale.
And This is what it looked like.
A river emptying out into the gulf. I suspect a bit of erosion from the storms.
Airborne again and headed for Singapore. I'm going to miss Bangkok. I like that city! Took off 45 minutes ago. 4hours and 15 minutes to Singapore.
Bangkok, Thailand, 19-20 June 2017:
Lloyd's Log
OK, I am on the ground and in my hotel in Bangkok. I need to run some errands but thought I would capture my thoughts on today's flight before running out.
More US influence.
It's mostly fiber!

Bangkok is clearly a connected city. Geek Joke: I wonder if they are running MLPPP to do inverse multiplexing?
I found it delightfully humorous.
Incongruity.
McDonalds adapts!
Lloyd's Log
Well, a down day is never really a down day. It just means the preparation for the next day is just a little more relaxed.

I did avert a bit of a crisis today. One of the things I learned on this trip is that a circumnavigation is powered by one thing — US Dollars, cash. In most places I have stopped, nothing else is accepted. Even the local currency seems to take second place. In one case I had the requisite amount of the local currency and they were very confused. "The bill is in dollars," I was told.
Anyway, so far I have burned through $20,000 (USD), cash. I thought that there would be some place where I could use my Visa card. There was: Trinidad. Trinidad was a long time ago (relatively speaking). Surprisingly, when I have to go pay airport fees the airports WILL take Visa, but not the handlers nor the fuelers. Cash only. US American Greenbacks.

Here was my problem. We (The Classic Aircraft Education Museum, Inc. a 501©(3) non-profit corp in the US) have set aside enough money to get the circumnavigation done, but I didn't take it all in cash. My mistake.

So here I am in Bangkok without enough cash to leave again. I had to get some cash. I assumed there would be a way to transfer money from the US to a bank here and then have them issue it to me in US Dollars. Ha. Not a chance. So I wanted to open an account, transfer the money into it, and then draw it out. Nope, can't do that either. I am not a resident. In the end the solution was to draw out the maximum amount available on my debit card then take a cash advance on my Visa. That was given to me in Thai Baht. I took the Baht to another bank specializing in currency exchange and had my Baht converted into US dollars. Yes, I paid the conversion rate both ways.

So with a few more withdrawals on my debit card, I should be able to make it to Australia, where I hope I may be able to use my Visa card once again.

This has been quite an educational experience! If I ever decide to fly around the world, I will know how to do it!
When I got here the handlers here were great. They even had a fuel truck with 100LL avgas in it! No barrels! Pump the gas and go. Clearing customs and immigration was equally a breeze. I think that took all of 1 minute! Now this was a facility for biz-jets and I am sure they are used to dealing with high-rollers. They did a good job. So far I'm happy … well almost.
First thought — I think that today's flight was perhaps the easiest of the entire trip. The autopilot pitch servo was back on-line so that problem is averted. Other than a little rain, the flight was VFR the whole way. The handlers got me through immigration quickly so I was out to the airplane and ready to start right on time.
It has been 55.6 hours since the oil was changed in Dakar on June 10. I am already past oil change time. I was supposed to be able to do that here but the oil was not forthcoming so I will have to try to do it in Singapore. That's the only problem.
The tower at Yangon was a bit slow so I spent about 30 minutes on the ground waiting to be released but after that it was smooth sailing the whole way. The only issue was getting necessary spacing from all the other aircraft on final approach to Bangkok. I got vectored just a little but nothing significant. I made my approach at 120 kts to maintain spacing with the jets and not hold anyone up.
In flight, from Yangon to Bangkok, 19 June 2017
The weather was good enough to do some aerial sightseeing. Here are pictures from today's flight.
Airborne again. Just crossing from Myanmar into Thailand. I'll be landing in Bangkok in about an hour. The autopilot is working again after I checked it yesterday. Today and tomorrow I will be working on Spirit. It is time for an oil change and general inspection again. I'm looking forward to having a little time to play tourist in Bangkok after ministering to Spirit.
Yangon, Myanmar, 18-19 June 2017:
(Rangoon, Burma)
Lloyd's Log
I had most of the day left today so I did a little exploring in Yangon. I was able to see the golden dome of the Shwedagon Pagoda, a huge Buddhist temple, from my hotel room. It was only a couple of miles away so I took a walk.

You don't have to be Buddhist to be awed by this place. It is amazing. Clearly Buddhists come from all over to visit. Shoes are not allowed so I took mine off, tied them together, and slung them over my shoulder. As I was walking around I was approached by a young man with three others of his family in tow. He struck up a conversation and asked me about myself and why I was here. He told me he, "liked my style," which consisted of my Lloyd Aviation shirt, hat, and shoes slung over my shoulder. But I guess that I was looking quite different from everyone else there. Anyway, his family wanted their picture taken with me. I have kind-of gotten used to that now. I can smile sincerely on demand.

So here are some more pictures from today. Tomorrow I head for Bangkok.
Lloyd's Log
OK, it is time for another rambling missive.

Today was supposed too be an easy flight and it was … mostly. I set up the GoPro and have started taking video from the cockpit which I am uploading to Josh for post-processing. (Josh has done my other videos. See his Mr Aviation 101 channel on YouTube.) But today was pretty solid IFR with a few breaks. The problem was, it wasn't good enough to be able to see all the CBs so I was pretty much dependent on the Stormscope to detect embedded thunderstorms.

There is only one problem with the Scormscope, it can't tell a CB is there until it becomes mature and the lightning starts. If you happen to stumble on a CB just before it becomes mature, the Stormscope won't tell you it is there and you could still be in for a wild ride. That's what happened to me today.

I had caught a momentary glimpse of a darker area ahead of me but the StormScope was quiet so I pressed ahead. I was on descent into Yangon and only about 15mi out from the initial approach fix (IAF) and cleared down to 4000′.

I hit severe turbulence and was upset. I was rolled 90 degrees and pitched down 30 degrees. Fortunately none of the gyros tumbled. I recovered, reported that I was turning left to get clear of the severe turbulence, and got out of there. It wasn't really bad other than the rapid roll. I don't think I even pulled 2G so I am not really worried about damage to the plane. It was just one of those, "OH S—," moments that that punctuate flying. (Old pilot saying: Flying is hours and hours of boredom punctuated by moments of sheer terror.)

Once clear (and in the clear) I turned back toward the VOR that is the IAF and was cleared down to 3000′. I set up the altitude preselect to level off there and then was heads down for a bit studying the approach chart. I glanced up to see I was 300′ below my assigned altitude. I punched off altitude hold and commanded 5 degrees nose up to get back on altitude. Nothing was happening right. It took me about 30 seconds of, "Hmm, that's odd," to finally realize that I had no pitch servo. Something had happened during the upset to cause the pitch servo to go off-line. So I ended up hand flying the ILS using the flight director. Landing was my usual "greaser". (That's my story and I'm sticking to it. Besides, none of you can prove otherwise!)

Once on the ground I pulled the access hatch to the avionics bay and climbed back in to inspect the pitch servo. It looked OK. The connector seemed loose so I tightened it up. Went back forward and engaged the AP. The pitch servo clutch seemed to engage so I think I may have my pitch servo back. We'll see if that is the case when I fly tomorrow. If it doesn't come back I will probably have to get Century to ship me a replacement servo while I am in Australia.
Chittagong, Bangladesh, 17-18 June 2017:
Chittagong is a seaport. The mouth of the Karnaphuli river has been a major harbor on the Andaman Sea of the Indian Ocean since ancient times.

The view from the balcony of my hotel room in Chittagong.
Here are more pictures, fueling Spirit, the every-present thunderstorms, and the signing and flag-sticking ceremony upon reaching Chittagong, Bangladesh.
The airplane signing and new-country-flag-applying ceremony in Chittagong. I knew I was in a good place when I saw two Cessnas parked here.
Lloyd's Log
OK, I ended up in Chittagong. It took so long to get out of Kolkata that Chittagong was as far as I was comfortable going today. And I am glad that I stayed here. The vibe in Chittagong is great. The handler outdid himself. He even got me a great room at the Chittagong Boat Club. It is a yacht club overlooking the river and is somehow connected with the Bangladesh Navy. In any case, it is great.

So what happened today? Well, it is really left over from yesterday. When I landed the totalizer showed I was about 10 gallons less fuel that I wanted to have. Was it enough to get to Chittagong? Probably. But I was going to have to go IFR and if I got vectored hither-and-yon, the chance existed that I would end up short on fuel. So I had to find some fuel. Fuel was available but getting it onto the airport and out to the airplane was going to be a challenge. It ended up taking about 8 hours. I did a lot of sitting except for the two hours dealing with immigration.
In flight, Kolkata to Chittagong 17 June 2017:
I finally got out of Kolkata. It only took 8 hours. I know, I decided to add fuel and that's the cause of the delay. So instead of stopping in Chittagong for fuel and then continuing on to Yangon (Rangoon), I'm going to overnight in Chittagong. It means I may just make a lunch stop in Yangon tomorrow on the way to Bangkok. I'll write more later but India has a strong lead in the Red Tape award. Over the Bay of Bengal shortly.
Holy thunderbolts, weather gods! Cut me a break!
The flight to Chittagong was very nice with only one big thunderstorm to get around. But they were all around. The storm scope lit right up just as soon as I turned on the avionics. I need to figure out what I need to do to appease the weather gods.
Kolkata (Calcutta) India, 16-17 June 2017:
Perhaps the most interesting problem was that of my Leatherman. I use that tool everyday but it has two knife blades. So security was going to take my Leatherman. The solution that was going to get implemented was to put my Leatherman into my suitcase, put my suitcase through regular checked-luggage, and then a luggage train would bring it out to my airplane. Really? Oh! And they were going to charge me a $100 fee to have it processed by baggage handling! But, at the last moment, a woman security agent handed me my Leatherman and said, "You can take it with you." Sanity prevailed!
In any case, long about 3:30 in the afternoon, I was allowed out to my airplane and there was the drum of fuel … all by itself on a cart. OK. I have a pump to deal with just such an eventuality. And it worked just fine … as long as you are not in a hurry. It takes my little pump (Rick Kelley's little pump, actually) about an hour to empty a 200L drum. And it was a warm day. By the time I finally got airborne, I was wringing wet. I must admit, I was glad to leave Kolkata.
Here is my little electric refueling pump. It apparently pumps about 60 gallons per hour so it takes almost an hour to pump a drum in to the plane. Glad I am not filling the wings and the ferry tank!

Here is the rest of the fueling process. That is my Iridium Sat Phone sitting to the left of the gas cap. Normally it is mounted on the side of the center console of the cockpit.
Lloyd's Log
I have been so busy dodging weather that I forgot to post that I have PASSED THE HALF-WAY POINT! Yes, I have now traveled more than halfway around the world! But I sure am getting a lesson in tropical thunderstorms.
Long flights are starting to seem normal but I was kind of taken aback when I entered today's flight into the logbook. Foreflight says I got 61.3 hours in the last 7 days. Man, that's a lot of flying!

It is possible to fly from Pakistan to India without any problems but there are some extras. I had to be assigned an ADC (Air Defense Command) number in addition to my overflight and landing permits. I guess that, if someone comes up to take a look, I'd better know my ADC number.
BTW, two things:

First, India receives the coveted "Red Tape" award! Customs required me to declare both the fuel in the tanks and the oil in the engine! Wow, I am gob-smacked!

Second, It's my birthday. I am 63 today.
Lloyd's Log
My idea today was to stay down at 11,000′ where the winds were favorable even if the plane isn't as fast. Also I wouldn't have to wear the mask. That was not to be. The CBs started building all around me. I couldn't go down because bases were below the minimum enroute altitude (MEA). So I went up, and up, and up. I ended up at 23,000′ which seems to be my altitude. Even up there I was barely on top of the stuff and, of course, the CBs are even higher. Everyone was asking to deviate and the pitch of the controller's voice kept going up.

Anyway, I managed to get around the last cell and down onto the ILS.

Unfortunately for me, the climbing and maneuvering ate into my reserve I need for the flight to Chittagong tomorrow. Weather will be a deciding factor.
In Flight, 16 June 2017:
Thunderstorms kept popping up right along my route. They kept squeezing me south and finally up against a restricted area. It is the first time I have received, "Deviation not approved." I pointed out that I could see the boundary for the restricted area and I would stay out of and finally got the much needed deviation. Had there not been a meeting of the minds I was wondering what would happen when I keyed the mic and spoke the 'E' word.
When you see this on a Stormscope you know not to even think about going anywhere near the storm in the upper left. This indication is called "radial spread" and is caused by lightning that is so intense that the distance algorithm fails and causes the strikes to appear closer than they really are. But that is a pretty good indicator that one should just go the other way.
My first hint that things were not going to go my way today. Note the cell in front of me and the one next to me. My only real alternative was to go in the direction of 1 o'clock.
Lloyd's Log
Passing over Bhopal, India now. There are definitely different procedures when flying between two countries in conflict.
Karachi, Pakistan, 14-16 June 2017:
Lloyd's Log
I have to write this stuff down or I will forget it.

Whenever I land and taxi up typically everyone wants to come out and look at the airplane (not many Mooneys stop at these airports) and to see the person crazy enough to be flying such a thing. There is always much smiling, handshaking and greeting. I usually pick someone from the group to apply the flag of the country to the baggage door of Spirit. Everyone really likes this ritual and there is plenty of discussion over who should do this. I also get the handlers and fuelers to sign the plane at the same time.
Yesterday when I taxied up and shut down, I was once again surrounded by people. During the meet, greet, and flag-applying ceremony one of the gentlemen in a military uniform asked, "So which is the best country you have been?" I immediately reply, "Pakistan!" I guess that surprised them because everyone stopped and looked at me. My questioner then said, "Why is this?" I answered, "It is simple — because I am here!" This brought the house down. They were nearly rolling on the ground laughing. I got some good back-slaps and more handshakes.

Humor is something we all share.
Lloyd's Log
I took a nap and walked around a bit. Came back and read some of the posts. One question (I think it was on my page) asked me about the costs involved. I think this qualifies for another general answer.

Amelia Earhart's issues were primarily with navigation. Mine are in dealing with the bureaucracies of all the governments I encounter. In most of the world I must apply ahead of time to be allowed to overfly a country as well as to land at a country. My posting about my landing in Dakar and the tower grilling me about my landing permit is an example.
Once down I have to somehow navigate customs, immigration, and getting fuel. Because of the differences between countries and procedures, a job has arisen called a "Handling Agent". These people specialize in "greasing the wheels" when you arrive at an airport. They know the specific people you need to deal with and in which order. They handle your fuel order, payment of fees, and shuttling you to the right place at the right time. I have been typically paying $300-$600 in handling fees. But compared to what it is like without a handling agent (which is what happened to me in Dakar where the link was broken by my two-day-late arrival and failure to communicate on my part) it is cheap insurance.

So, in fees and the like, I was told to expect anywhere from about $500-$1500 per stop. That seems to be holding true.

As for fuel, that is another story. Once I left the US I have paid anywhere from $2/L (about $7/gal) to over $5/L ($20/gal). Spirit burns about 9 gal/hr in cruise and 18 gal/hr in climb. You do the math for a 12-hour leg. You can do a whole lot of flying on the airlines, first class, for what I am paying for fuel and fees.

This is why I have a Fundly fundraiser going on to help raise money. This goes to the Classic Aircraft Education Museum, a 501©(3) non-profit corporation, who is sponsoring me.
Hmm, someone suggested I am halfway. I am by time zones. I am 12 hours difference from back home. But I have not quite reached the antipodal meridian. The longitude of my home airport in Texas is 98º29'W and the longitude of Karachi airport is 67º09'E or only about 166º. I need to reach 82ºE to have traveled halfway around. That will happen to tomorrow's flight from Karachi to Kolkata.
Lloyd's Log:

OK, now on to flying the last couple of days. As I said in a previous message, the schedule is rather grueling. With the exception of skipping the stop in Mali, my schedule matches Amelia Earhart's schedule pretty closely. This has been physically challenging for me. Since Brazil I have not had a break. Even the "day off" in Dakar was spent working on Spirit, fortunately in company of delightful people who made the time pass quickly and easily. Even so, I have been flying very long days and not getting enough sleep. I finally got a full 8 hours of sleep last night and hope to repeat that again tonight so I should be pretty well recharged. Also, I get to get my laundry done!

All kidding aside, what this tells me is that we need to consider what it might have been like for Amelia Earhart and Fred Noonan. This is HARD flying. Granted she had the best equipment available in 1937 but her Lockheed Electra 10A was about 4 times the size of Spirit. (Spirit is almost exactly the same size and weight as the Spirit of St. Louis.) That means that the controls would be heavier and require more force. That translates into more work for the pilot. In 1937 mechanical autopilots were available to hold the wings level and to maintain a compass course, even so Amelia Earhart had her work cut out for her. You never really fully understand until you walk a mile in someone else's shoes. Now that I am walking in her shoes I can say that my respect for her has risen about 1000%.

I finally have time and internet bandwidth (and Facebook access — I suspect that the Omani government blocks access to Facebook) I am uploading some pictures from the last two legs. I have already commented about the flying and some of my anecdotes dealing with ATC. Even though English is the official language of aviation, what passes for English in much of the world is a challenge to my ear. I have to request phonetic spelling of nearly every waypoint they ask about or assign to me, especially when being rerouted. That then interferes with their time to talk to other aircraft. I am sure it is as frustrating to them as it is to me. Also, they use different terms which confuses me. The worst one so far is "heading !@#$%". To me, "heading" is a number on the compass to which I need to turn, as in, "heading 120," which tells me to turn the airplane to a compass heading of 120 degrees. But they use it like "direct to". So I will get something like "heading <mumble>" where <mumble> is some fix to fly to and I am expecting a number. This caused me to ask for the heading to be repeated several times until I caught onto the difference. (This, my fellow IFR pilot friends, is why we use standardized phraseology.)

Khartoum was interesting. Khartoum is clearly booming. I found the mix of aircraft at the airport interesting. About half were of Russian manufacture so clearly there is a lot of business going on between Sudan and Russia.

The Arabian influence is stronger in Khartoum than it was in N'Djamena or Dakar. It was, of course, very strong in Oman.

Ever since Dakar it has been clear that I am now immersed in Islamic influence and culture. It is Ramadan right now so the people are far happier to be working at night than during the day since one does not eat or drink during the day. With temperatures over 100F, one does not want to be out in the sun pumping fuel into an aircraft with no water to be had for many hours (sundown). And when sundown comes and the call to prayer happens, everything stops while the fast is broken.

I am not really concerned for my own safety. Aviation is well protected. While I am on an IFR flight plan and in RADAR coverage, there is little chance that I will be mistaken for a threat. On the ground airport security is very good. I was surprised to find that my hotel had security equal to or better than most airports. It is the first time outside of an airport that my Leatherman has been questioned. I quickly unfolded it into a pair of pliers and to show all the tools inside rather than let them dwell on the two knife blades. So far it hasn't been a problem.

Two continents in the last two days. Three hard days to cross Africa. Much of a day to cross Saudi Arabia. The hop from Oman to Karachi was a veritable snap-of-the-fingers at only 4 hours.

Well, here are some more pictures for you.
Historic Karachi 16 June 1937:
In flight, Muscat Oman, to Karachi, Pakistan, 14 June 2017:
Lloyd's Log
Hmm, someone suggested I am halfway. I am by time zones. I am 12 hours difference from back home. But I have not quite reached the antipodal meridian. The longitude of my home airport in Texas is 98º29'W and the longitude of Karachi airport is 67º09'E or only about 166º. I need to reach 82ºE to have traveled halfway around. That will happen to tomorrow's flight from Karachi to Kolkata.
Visibility today is not good. But I can just make out the coast of Pakistan now. I tried taking a picture but the contrast is too poor.
Muscat Oman, 13-14 June 2017:
Lloyd's Log
Another grueling day is over. Today's flight from Khartoum to Oman was almost exactly 12 hours. Don't ask me how I managed but I mentally botched the flight planning and was thinking I had a 6-7 hour flight. My brain must be turning to mush. I am so looking forward to my short (4 hour) flight tomorrow across the Gulf of Oman. Yes, this is the area you keep hearing about on the news.

Flying through Saudi Arabian airspace today was interesting. I got rerouted due to an error in my flight plan. Eventually the Saudis figured out that, if they got me off the airways and going direct, I would be pretty much out of their hair and out of the way of various jets. "Cleared direct TOKRA," was welcome. As I scrolled through the flight plan in the FMS (flight management system) I had to scroll a LONG way as that waypoint was still 4 hours away. OK, I'm good with that. Then ATC basically said, "And when you get there, call Muscat control on 123.95." After that they ignored me. OK. It was one of the more interesting IFR enroute trips I have taken.
Until then they kept asking things like, "6 bravo lima, say time at !@#$." Basically I had no clue at any of their pronunciation of waypoints. I would have to get them to spell it out phonetically. And they didn't pick route endpoints. They would pick some random waypoint in the middle of a route. Sure it was all in the FMS but when there are like 100 waypoints in your flight plan, it can take awhile to find the one they are talking about. And it was never the next one or two down the flight plan, it was always like 15 waypoints away. What?

So they finally figured it out, aimed me at the exit and said, "go away." I'm good with that!

Going back to the beginning, the Sahara Desert is dusty. REALLY dusty. That picture I uploaded doesn't need to be high-res to get the point across that the dust is everywhere up to about 20,000′. I used to wonder about the dust that got on our boat in the Caribbean. Now I know. And that dust sticks to everything. The leading edges of everything on the plane has that brown line of dust on the front of it. Spirit desperately needs a bath.

Well, I need to get into bed. I have no idea what time my body thinks it is. I just know that the clock says 2:49AM. I need some sleep. I'm looking forward to a down-day in Karachi. I might just sleep in.
In flight, Khartoum, Sudan, to Muscat Oman, 13 June 2017:
OK, it is 11PM and for once I can get to bed at a good hour and not have a schedule to meet in the morning, except for getting my laundry in. Pilots understand, "there are two sides to your underwear." The two extra days put me into clean-clothes debt. I'll let it go at that.

So, two whole nights of sleep with a day in between. I hate to admit it but this trip is pretty hard. I have been flying 8+ hours and then having to get it together to shoot an approach. (Dark? Unfamiliar field in an unfamiliar country? You bet your bouncing baby bottom that I'm gonna take the ILS!)
And speaking of ILS, I did a visual approach to Muscat last night. I thought it would cut the controller a break and relax the spacing a bit. Put it right down on the touchdown zone. I'm feeling good. Then the controller says, "6 bravo lima, could you please expedite down to the turn off." I had already heard him clear an aircraft to "line up and wait" on the runway for me to clear. Then he has another coming down the pipeline.

(Now with a bit of urgency in his voice.) "Six bravo lima, you appear to be going a bit slowly. Could you please expedite to the turn off."

(I'm doing 50 kts down the runway.) "Muscat tower, six bravo lima, if I go any faster I will take off again." (I suppose I could have.)

I keep thinking I will get to the turn-off but it isn't happening. The freakin turn off (Y4) is like 8000′ down the 13,123′ long runway! Fortunately it was a high-speed turn off (and well lit — cool LED centerline and taxiway centerline lights) so I didn't have to slow too much.

It turns out OK. The other plane takes off and the plane on final doesn't have to go around.

One thing is clear, NO one around here has ever seen a Mooney before. I can't tell you how many times I have had to repeat, "Aircraft type mike twenty tango," on this trip, often more than once.

Oh, I am rambling. Going to get some sleep. Tomorrow I will be more coherent and put up some pictures.
Lloyd's Log
Phil Karn was asking about my oxygen system. It is probably worth some words to explain it as I am very much dependent on its reliability. Being a person with a teacher mentality prevents me from just telling you the time. I have to explain how to build a clock. So, here is the information on the oxygen system, along with background so you can understand not only how it works but why I chose the system I did.

We all know that we need a certain amount of oxygen to function. You may remember about partial-pressure of gasses from your high-school chemistry class. We also know that air is made up of 21% oxygen, 78% nitrogen, and 1% of a whole lot of other gasses, mostly argon but also including CO2. As we go up in the atmosphere, less total oxygen is available for breathing. By 18,000′, the pressure of the air has dropped to ½ what it was at sea level. In order to keep the same total amount of oxygen in the air, the percentage of oxygen must be increased to 40%. That is the job of my oxygen system — to increase the percentage of O2 in the air so that I am breathing the same total AMOUNT (partial-pressure) of oxygen as I would have gotten at sea level.

There are several types of systems that will do that. The simplest is the constant flow type. This is what you see in hospitals. The oxygen flows at a standard rate and the flow is adjusted until the blood is properly saturated with O2.

The problem with constant flow systems is that they are extremely wasteful. Most of the oxygen is wasted into the air in stead of going into your lungs. Yes, you get oxygen when you inhale but when you exhale, the oxygen that is flowing at that time just gets pushed out into the air. Even so, this type of system is often used in aircraft for short to medium length flights because it is so simple and reliable.

If oxygen is needed for longer periods of time the constant-flow systems become prohibitively large. In WW-II the military needed a better system for long-range unpressurized bombers. They came up with the diluter-demand system. In the diluter demand system oxygen is diluted with air to the proper partial-pressure of oxygen depending on altitude. Also, oxygen only flows when you inhale (on demand) so oxygen is no longer wasted when you exhale. This was a huge step forward and ended up providing about 4 times the duration (depending on altitude) of a similar-sized continuous flow system.

But there is even more efficiency to be gained. If you think about it, only the air/oxygen that reaches the alveoli in your lungs actually works to oxygenate the blood. Any oxygen that is left in the nasal passages, trachea, and bronchial tubes never reaches the alveoli and therefore never reaches the bloodstream. So how do we meter oxygen so that it all reaches the alveoli? Enter the pulse-demand oxygen system.

In the pulse-demand oxygen system 100% oxygen is delivered in a pulse at the beginning of inhalation. This bolus of 100% O2 goes all the way down into the lungs and into the alveoli. The mixing to the proper partial pressure actually happens in the lung itself. The length of the 100% O2 pulse is determined by altitude and the amount of extra O2 needed. So virtually 100% of the O2 delivered by the system makes it to the alveoli to saturate the blood with oxygen.

There are a couple of companies that make pulse-demand oxygen systems. The one I picked comes from Mountain High Oxygen systems. (http://mhoxygen.com) Their pulse-demand regulator is electronic and has some features I really like.

The most important feature is that it has various alarms that are piped into the audio system of the aircraft. If it detects a problem I get an alarm tone in my headset long before the onset of symptoms of hypoxia. Perhaps the most important is an apnea detector. If it doesn't detect a breath within a certain period of time (which gets shorter with increasing altitude) it sets off an alarm. That will detect problems like a kinked hose to my cannula or mask. It also alarms if the source of oxygen from the bottle stops, warning of an empty bottle or failure of the preregulator. The pulse-demand regulator is powered by the aircraft's electrical system but also has its own back-up batteries. (It can run from the batteries when used for portable operation.) I end up testing the apnea feature regularly because I have to lift my mask to eat or drink and if I keep it up for too long I get an apnea alarm.

So what about Phil's question about detecting problems? Certainly monitoring the actual O2 saturation in the blood (SpO2) is a good thing. I do have a portable Pulse Oximeter which clamps on a finger and measures SpO2. Testing over many years has shown that the system does a proper job of delivering O2. And being a pulse-demand system, it is either working or it isn't.

Lastly, I am my own final detector. I know my own hypoxia symptoms. I have been through a hypobaric chamber "ride" so I could experience my own symptoms of hypoxia and (hopefully) be able to detect the onset of hypoxia before it incapacitates me. This actually worked on this flight. There is only one flaw in my oxygen system — me. I have to set the system to the correct setting for either mask or cannula. Below 18,000′ I use a nasal cannula. Above 18,000′ I need to use the mask. The mask requires slightly more O2 from the system on each inspiration because of dead-space in the mask itself. On one of the flights I noticed I was beginning to sense the onset of hypoxia, which made no sense to me because I could hear and feel the system delivering oxygen. Then I noticed that I had set the regulator to "cannula" instead of "mask". A click of a button and all was normal within a few breaths.

As for the rest of the system, in the baggage compartment there are two 115 cu-ft carbon-fiber-wrapped bottles connected together feeding a simple, mechanical, step-down regulator that delivers O2 to the pulse regulator at 15psig. There is a mechanical gauge on the bottles and a separate electrical gauge in the instrument panel that shows bottle pressure.

Now that I have described the system, here's my response to Phil's question about adding a full-time pulse-oximeter — I really don't think it is necessary. The system is very reliable with many self-checks. Risk of anoxia is very low. It probably wouldn't reduce the risk enough to make it worthwhile.
Lloyd's Log
Just a quick note about some of the people here following me. I just answered a question from Phil Karn and a day ago a comment from Dave Crocker about email. You may not know these men but every day you use things that they created. Phil used to work for Qualcomm and is responsible for the technology upon which many of your cell-phone and smart-phone features are based. Dave Crocker is the original designer of Internet email. I had the good fortune to work with Phil and Dave while on the Internet Engineering Task Force (IETF) which designed most of the underlying features of the Internet. Many other people from the IETF are on here following me. It is because of their work that I can share my trip with you in near real-time. We owe them a debt of gratitude for the amazing creation that is the Internet.
Lloyd's Log
The air is full of pink Sahara dust. I am just on top of it at 19000′. Below me the Northern Sudan looks like the surface of Mars. The variety and strangeness of this planet is astounding. I will be crossing the Red Sea on my way into Saudi Arabia in 1.5 hours.
Khartoum, Sudan, 12-13 June 2017:
Just got to my hotel in Khartoum. Even though the flight today was only about half the distance of yesterday, it took 8 hours because I was trying to save fuel. It worked because I landed with 2 hours of fuel left in the plane.

Todays flight was eventful because of weather. It started out beautifully and ended beautifully but in the middle I had to deviate around a supercell, a very VERY large thunderstorm. It was so big that I had to travel 100nm N off my course to get around it. I took picture of both the stormscope and the storms. See them below.
I do wish I could stop and stay at these places for a bit longer. I am glad I got to stay in Dakar for a bit and hang out at the Aero Club.

N'Djamena felt like a 1930's movie of the French Foreign Legion. Khartoum is quite modern.

Well, I have another 12 hour day of flying tomorrow. I had forgotten just how far it was from Khartoum to Muscat in Oman and didn't budget the time. It is already 0130 local time and I am going to have to get up early and get going.

I'll upload the pictures and head for bed.
Historic Khartoum, Sudan, June 1937:
In flight, N'Djamena, Chad to Khartoum, Sudan 12 June 2017:
The one interesting thing today was the arrival at N'Djamena. The wind was slightly favoring runway 23 but after telling me to expect the runway 23 RNAV/GPS approach, the controller mentioned an inbound thunderstorm with blowing dust and 2000′ visibility. So in order to get down more quickly I requested the ILS Z Runway 5. (In case any of you want to look up the approach.) No problem. It was darned near a straight-in for me that way and I got on the ground before the gust front hit and covered everything in dust.

Now I must leave you. Believe it or not, I am DEAD tired. I desperately need a full night's sleep. So as soon as I press "publish" I am turning off the computer, hitting the shower, and going to bed.

Good night all!
So, today was … grueling. Dust and clouds obscured the earth. Headwinds sapped my precious fuel. I had to slow down in order to burn less fuel and conserve as much as possible for the hop to Khartoum tomorrow.

I got on the air for a little bit but my heart wasn't in having to work a pile-up. ALE contacts are easy … until ATC calls and then I have to talk to them.
And talking to them can be a challenge. My ear is not tuned to their accent so I have to ask for everything to be repeated. I suspect the other pilots who fly here all the time may have found my excessive request for repeats a bit annoying.

I was at 55% power today in order to get maximum efficiency. The end result was almost 80 gallons left in the tanks. I now know for sure that the ferry tank will hold a full 100 gallons because I filled it and burned all of it.
In flight, Dakar to N'Djamena Chad 11 June 2017:
Well, Spirit and I are on our way to N'Djamena. We are level at 21000′. Today's flight is the first with full fuel and the longest to date. The HF is on and scanning the ALE network.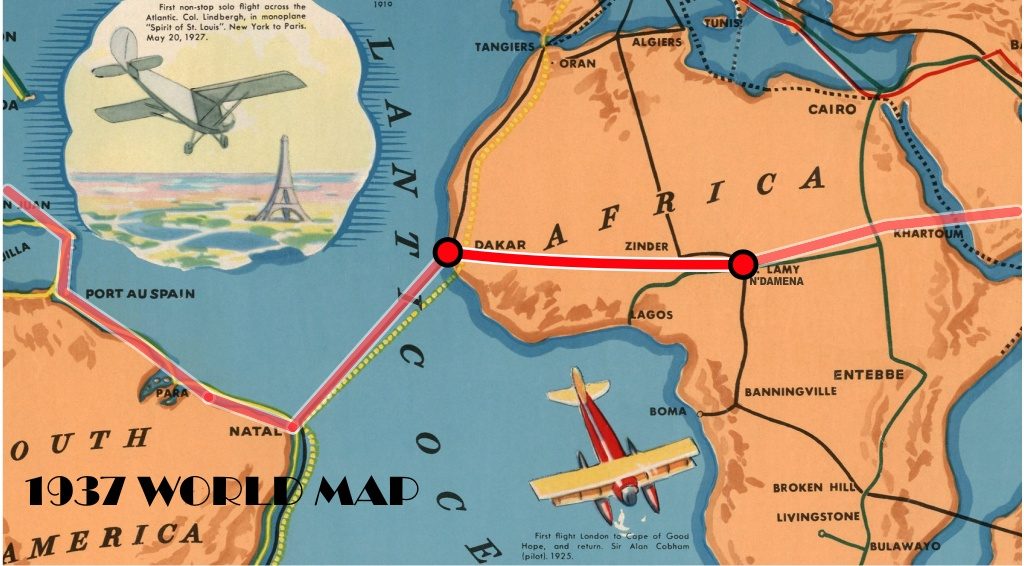 Dakar, Senegal, 09-10 June 2017:
Lloyd's Log
The day was spent at the Aero Club de Dakar working on Spirit. I did not realize when I went there just how much history I was entering.
Here are some pictures from today. I hope you can share a bit of awe and reverence for the pioneers who proceeded us and spent time in this place.
Alain and his lovely wife took me out to dinner tonight. He opined that I may be one of the last people to ever be able to make this flight as the world of general aviation is disappearing. Unfortunately I agree with him. The world has become too regulated for people to just head out on an adventure around the world. Yes, I am probably safer than Amelia Earhart was due to the modern technology but the bureaucratic rigidity can be just as daunting.
Yes, any sane person would be in bed by now after having flown for 13.1 hours. But I was hungry. Thank goodness that the hotel here does room service at all hours.

13.1 hours flying, with an oxygen mask on, eating only power bars washed down with bottled water, and you get hungry. I really didn't have any breakfast either. But at least I had Marco's coffee to help me stay focused.

I was planning on quickly cranking out a description of the day but two things are going to prevent that: the room is still moving and my eyes keep closing of their own accord. I promise a more detailed report. But for now I leave you with two things: Flying almost 1700 nm is a bit grueling. Flying 1900 nm on Sunday is likely to be even more so. It looks like it will take about the same amount of time as today due to not having 20 kt headwinds.
In any case, I am here, safe and sound. More tomorrow.
The Aero Club de Dakar was already an aviation fixture in the 1930's before Amelia Earhart reached it. So I got to stand in the same space that was occupied by Amelia Earhart and other pioneering aviators such as Antoine de Saint-Exupéry, who was a member. The writings of Saint-Exupéry are legendary, and include the well known not-quite-children's book, "Le Petit Prince" (The Little Prince). But it is his writings about aviation, e.g Vol de Nuit (Night Flight), that are classics for all pilots.
So Spirit got her oil changed, plugs cleaned and re-gapped, and the engine fully inspected with the cowl off. I was lucky that people like Zak, Alain, Michelle, and Tafa took me under their collective wing to help me along.
Lloyd's Log
Already feeling compressed again. I have to get back to the airport and move Spirit from the big-airplane transient ramp (she looks rather small sitting between Boeings and Airbusses) to the Dakar Flying Club. I have to pull the cowling to inspect the engine and change the oil.

Several things hit me this morning when I woke up. The first was:

Holy <expletive>, I'm in Africa! There is no turning back now. Going back is going to be just as hard as going forward so the die is cast. The 13 hour Atlantic crossing was a clear dividing line. The path of least resistance is now forward, not back.

But I don't think there is any other way. Whatever problem I encounter I analyze it and effect a solution, whatever it may need to be. If it doesn't work, observe, hypothesize, act, and analyze the result. (Hmm, I believe that is the basis of Scientific Method. What a surprise.)

The airplane is performing well. The engine is running precisely as it should. I have no complaints. Both the HF and the Stormscope worked properly on yesterday's flight. I can't help it if the solar event took down radio propagation for everyone. I ended up acting as a relay a couple of times yesterday as did several airliners for me.

Coming into Dakar I did have one sort-of-funny experience, potentially with bad result but it turned out OK. As I have said previously, one needs official permission for both overflight and landing in most countries of the world. (Fellow pilots — I *know* first-hand how good we have it in the USA.) I got my first hint when the Dakar approach controller asked, "Do you have landing permit for Dakar?"

"Yes I do."

"What is your permit number?"

(Remember, I am solo, on instruments, at night, in a foreign country, with an oxygen mask on, cold, and tired after 12 hours of flight.)

"Uh, I cannot get it right now."

"But you do have a permit?"

"Yes, I have a permit."

"OK … Contact Dakar tower on 118.1."

"Dakar Tower, N916BL, 8000 descending, direct APTON."

"Roger N916BL. Proceed direct APTON. Report APTON. Cleared ILS zulu runway 36."

"N916BL, roger, direct APTON, report APTON, Cleared ILS zulu 36."

…

"N916BL, APTON, 2200 feet." (I am now flying the ILS approach itself and capturing the glidslope.)

"N916BL, do you have a landing permit? What is your permit number?"

I wanted to say something not very nice at that moment, having to do with recognizing that I am a bit busy flying an ILS approach.

"N916BL, I cannot get to my permit number right now. It will have to wait until I am on the ground."

"Roger N916BL."

I land. I am rolling down the runway looking for the taxiway which is apparently not well marked.

"N916BL, turn left on taxiway sierra 1. Report clear of the runway. May I have your permit number please."

"Uh, N916BL, I am still on the runway. It will have to wait until I am stopped."

"Roger N916BL. Sierra 1 to Sierra, left on delta, right on golf to position golf 21."

(I repeat back the taxi clearance.)

Thank goodness I have a taxi diagram because they clearly do not believe in taxiway markings in Dakar.

"N916BL, may I have your permit number please."

"Dakar tower, I am still taxiing. I need to stop to be able to get at my documentation. It will have to wait until I am parked."

At this point a note of urgency entered the voice of Dakar tower. It was clear to me, in no uncertain terms, that he needed to get that permit number. (Yes, the message was coming through loud and clear.) I knew that I had it in my laptop and by now I am really kicking myself for not having moved it into my iPad where it would be right in front of me.

So I got to parking. I parked the airplane. The level of urgency in the voice of Dakar tower increased. I finally had to explain that the permit number was not where I could reach it and I needed to shut down the engine to go get it, but once the engine was shut down, I could not talk on the radio. (No, I am NOT a kerosene-burner with an APU!) I finally said, "I am sorry I will get the number to you somehow after I shut down." At that point I turned off the radio master and shut down the engine.

When I finally exited the airplane there was a very nice Customs agent to meet me. He began to inspect the airplane and fill out his paperwork. You'll never guess what his next question was after greeting me. Yup, "May I have your permit number please."

<sigh>

OK, I get out my laptop and open it up. I know where the permit number is stored. Mike Gray sent me all my permit numbers in a convenient document … which apparently had NOT downloaded when I read the message. So, without internet access, I couldn't get my permit number. I began to wonder about the quality of the Senegalese jails. I truly expected to be escorted to a locked room at a minimum.

So, what happened? The Customs agent shrugged and said, "OK." That was it. No more was said. I cleared customs and immigration with no more questions about my permit number. Really?

So, I do exhibit learning behavior occasionally. I now have ALL my permit numbers stored on my iPad and iPhone where I can get them immediately while flying.

Oh, did I mention I got hustled at the airport and that the taxi driver overcharged me? Heh. It's just another part of the story. Yup, I am in Africa. My experiences in Nigeria came rushing back. OK, time to shift mental gears and move forward.

Tomorrow is going to be a really early start. My flight to N'Djamena, Chad, is 20% longer than my flight from Natal to Dakar. But I won't have headwinds so the flight time should be comparable. Still, I have 12-13 hours of flying tomorrow with another couple of time zone changes. Frankly, it is having my 24 hour days compressed into 21-22 hours that is going to really mess me up.

Now it is time to head off to the airport to move the plane, change the oil, and check the engine over thoroughly. I'll pull the plugs and clean them if I can. Running a lean-of-peak mixture should have kept them very clean so I can probably get away with just leaving them alone. We'll see.
For the first time Spirit has a full load of fuel. I need to be able to fly 1900nm to N'Djamena and then on to Khartoum without refueling. There is no avgas to be had in N'Djamena. For the pilots out there, I am loaded right to aft CG. This means that I have to be careful not to over-rotate on take-off. A long runway, less nose-up trim, a light touch, and patience will make it all work out. It will also tell me if a non-stop flight from Fiji to Hawaii will be possible or if I will have to make a stop at [Kirabati] Christmas Island.
In Flight, Natal to Dakar, 09 June 2017: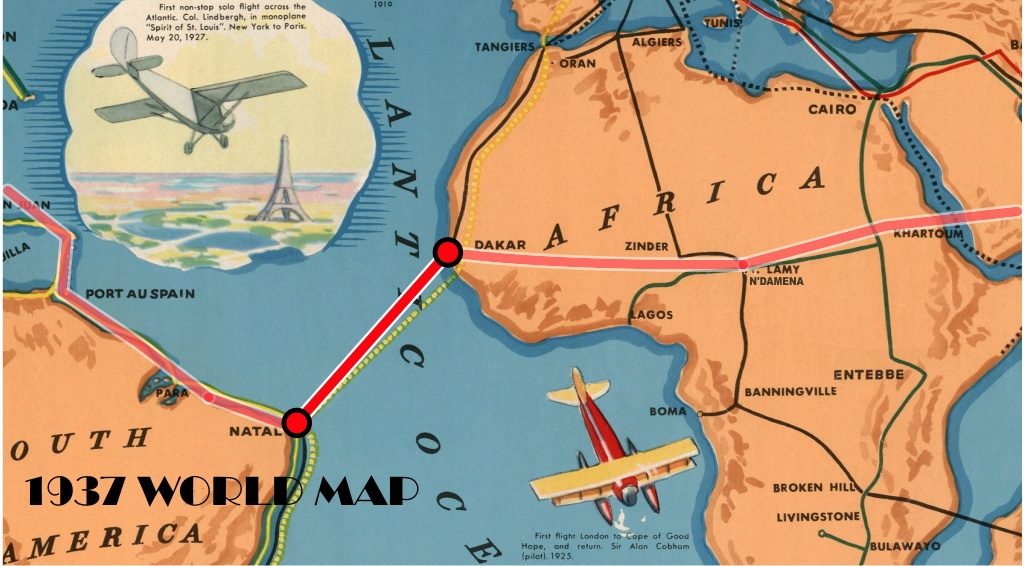 Natal, Brazil, 07-08 June 2017:
Lloyd's Log
Just finished entering all the logbook entries for the ham radio contacts I made the other day. It really was amazing to be on the receiving end of a DX pile-up. Stations from all over Europe and the US were blasting in and I handled them as quickly as I could.

If you talked to me, your QSL card is in eQSL. If you don't use eQSL you won't get a card. (Hint: join eQSL.)

73!
Lloyd's Log
First off, thank you to all the people who have complimented me on my writing and encouraged me to write more. I will try to do that, time permitting.

I was the guest of André Nunes and his lovely wife and children last night. His son graciously gave up his bed to the interloper. Great dinner, great conversation. It was very nice, pretty much like everyone I have met here in Brazil.

André took me to the Catuleve airport (SJCM) where the maintenance shop had been nice enough to let her rest in their hangar. We picked up Demerval on the way. André had been kind enough to file my flight plan for me so I was pretty relaxed. Did the preflight inspection on Spirit including inspecting everything in the avionics bay in case loose cables had been the source of any of the problems. No loose cables. So it was out of the hangar and taxi for take-off. Demerval took some video which I hope he will post.

I got off in fine order and on my way to Natal. The air was smooth and all was well until Recefe Center called me to tell me that I was being intercepted by a Brazilian Air Force aircraft. He eventually joined up on my left wing and contacted me on guard (121.5 MHz). There were a number of questions about where I was from, where I was going, name, permit number, etc. After about 10 minutes he cleared me to continue to my destination and peeled off. I have added a better picture than the one I uploaded through the satellite phone.

Landing was semi-eventful. The wind was REALLY blowing so I got some crosswind landing practice. Of course, I greased it on. (That's my story and I'm sticking to it and no one can prove otherwise.) Once parked the fun began. There was no one who spoke any English or Spanish to be found so I was effectively incommunicado (until I got WiFi and could use Google Translate). The problem had to do with somehow getting fuel for the airplane. Normally this is not a problem except that they wouldn't accept either credit cards or US dollars. (This is a first for me.) Plus it seemed like they wanted me to pay first and tell them how much fuel to put in. I started out thinking I would put in a full load of fuel but when I saw the price I decided to go with adding only 100 gallons to what was already there rather than filling the plane completely. As I recall, fuel in Dakar is no more expensive so I decided to go with only 160 gallons in the plane rather than the 210 gallons she will carry. By the way, this process took about 2 hours.

But my meet and greet group was there and helped out. They had a reporter and cameraman from the Natal newspaper. They are going to run a story in their Sunday edition.

Fortunately they had some people who spoke English and we were able to work out the detail of fueling the airplane. We checked in with Customs to be sure I could get out in the morning and then headed off to Natal for a very late lunch.

When we got to lunch I was treated by a group of about 20 people who wanted to come out and meet me. It was great fun. After the wound down we sat and worked on my flight plan for tomorrow. Got that all done but ANAC would not accept the flight plan until I paid my airport fees. <sigh> So we will file the flight plan in the morning when I got to clear customs.

Tomorrow morning will come very early. They are picking me up at 4AM so I can launch at daybreak. If I get off soon enough I will probably arrive at Dakar just after sunset and while there is still light. Today there was bad weather across the route where it crosses the ITCZ but that was forecast to dissipate. I can only hope that it won't rebuild tomorrow by the time I get there. Even so, there were holes in the line. I will definitely get to find out of the Stormscope is working. Fortunately I have my eyes to help.

We are going out for a light dinner shortly. I plan to be in bed by about 9:30 PM with everything laid out so I can put on my clothes and leave at 4AM without having to do much.

Here are some pictures from today including a higher resolution image of the Tucano.

Stay tuned.
Natal, Brazil, Historic June 1937:
In Flight, Fortaleza to Natal Brazil, 07 June 2017:
I had a new experience while enroute (Fortaleza Brazil to Natal Brazil). I was intercepted by the Brazilian Air Force. A Tocano flew on my wing for about 10 minutes while they questioned me on guard (121.5 MHz). I guess they were satisfied as I was instructed to continue to my destination." Brian Lloyd wrote on 7 June 2017 after landing in Natal Brazil.
Fortaleza, Brazil, 04-07 June 2017:
Brazilian overflight permit granted. No problem. Tomorrow I move the plane to test the HF antenna tuner and grab some log files from the Stormscope's computer. That will let us know if the Stormscope really does have a problem.

After yesterday's flight and the odd things I noticed about my Stormscope and my HF radio, I have decided to stop here in Fortaleza to troubleshoot the problems and convince myself that they are both working properly before proceeding. That means I will be here in Fortaleza for at least one more day. I will not be traveling to Natal today as planned. If after testing and checking I determine that everything is indeed OK, I will proceed to Natal tomorrow. If not, I will remain here until I get everything fixed.
In the case of the HF radio, I think that the antenna tuner may have been damaged somehow. It is also possible that the cold and the moisture caused it to become partially disabled yesterday. Test flying today will tell me the answer to that.

The Stormscope depends on what the manufacturer says about the failure of the self-test of the unit. I suspect I will have to wait for a new unit to be shipped to Fortaleza from the US. And then there is the possibility that I have it shipped ahead of me to where I will be, e.g. Dakar. Whether I do that or not will depend on weather over the Atlantic and the location of the ITCZ.

So many decisions to make! Time to go get the information to make them!

Stay tuned.
Lloyd's Log
In spite of the confusion over the overflight permit (my fault), everyone has been just fantastic here in Fortaleza. The ANAC (Brazilian FAA) people were very helpful in getting me to where I could apply for the permit and the permit was granted in only a little more than an hour after I submitted it. I have no complaint.

But let me tell you a bit about my stay here. The pilots and amateur radio operators here have done everything possible to make my arrival and stay here more than pleasant and make me feel welcome. I certainly do feel welcome here and I will have to come back again in order to stay longer.

First I have to mention the names of some people here who have gone very far out of their way to help me. My first contact was with Mauricio Fleury who began laying the ground work for my arrival in Fortaleza and Natal. He notified many people and also introduced me to his son, Eduardo, who circumnavigated his airplane 5 years ago. He sent me weather updates as I traveled toward Fortaleza. He has also provides a lot of useful advice along the way.

Once I landed in Fortaleza I discovered that they had primed customs and immigration so that I was through in only a few minutes. When I exited from Customs I was met by André Nunes and Roberto Fortes Filho. They whisked me off to the beautiful Mareiro Hotel, right on the beach, where I was met by Demerval Diniz and his son Fernando. The Mareiro Hotel is owned by Demerval, who owns and flies a Beechcraft Bonanza and an RV-9. For two days I have been a guest in Demerval's hotel, his contribution to my flight. The hospitality has been tremendous. If anyone here has reason to go to Fortaleza in Brazil, I strongly recommend the Mareiro Hotel. It is beautiful, new, modern, and right on the beach.

Yesterday Demerval went with me to help me navigate the ANAC bureaucracy. He was going to fly with me to Catuleve (where I will be going shortly) but that was not to be. I am going today now that I have my permit in-hand. They have less-expensive fuel there and people to help me test and troubleshoot anything before I head off to Natal and across the Atlantic.

This morning Demerval, an engineer and retired Physics teacher, took me on a tour of the mechanicals of the hotel. Now you may not think that water chillers, generators, and power factor correctors are interesting but I do! Providing telephone, network, electricity, clean water, and air-conditioning requires a LOT of technology. I really enjoyed the tour and asking questions about how it all works. It is VERY high-tech with an amazing amount of automation to be as efficient as possible. Demerval is clearly very proud of his hotel and the people who help him run it. He has every right to be. It is a work of art.

I took some pictures from the hotel. You can see the view out my window to the beach and down to the amazing swimming pool. I also took a picture of a sculpture that Demerval made using a piece of the water pipe used to transport chilled water. A light inside the spiral-cut pipe is projected on a slanted wall. I thought it was a brilliant bit of sculpture, capturing the intersection of art, physics, and engineering.

It is time to pack up and head for Spirit and Catuleve. I hope to find that my HF and Stormscope will let me head out to Natal this afternoon and on to Natal this evening. I hope to be able to keep to my original schedule and take off for Dakar early tomorrow morning. The flight to Dakar will be the longest leg to date and the first time I will take off with a maximum fuel load as I head across the Atlantic. I won't need all that fuel but I want to be sure to test with full fuel and to tanker a bit of fuel to Dakar where fuel costs more than here in Brazil. Every little bit helps.

Stay tuned!
Seems I am a bit stuck at Fortaleza for a bit. Apparently I was supposed to apply to the Brazilian government for an overflight permit which would allow me to operate inside the country. Without it I can only arrive and depart the country from the same place. So, until that permit comes through, I can't move the plane unless I want to take off and fly to Africa now. Since my plan was to follow Amelia Earhart's route, I need that permit in order to fly down to Natal.

Looks like I lose most of a day even if the Brazilian government turns around that permit almost immediately. My fault for not confirming the rules ahead of time. This requirement is unusual because most countries have reciprocity with the US to freely allow air travel. Well, I won't forget next time.
In Flight Over South America 03-04 June 2017:
Airborne again and flying for an hour now. Will reach Fortaleza in only 8 more hours. In 2.5 hours I will be over the mouth of the Amazon river. 30 knot headwinds are slowing me way down. Looking forward to meeting new pilot friends in Brazil.
Suriname 03-04 June 2017:
Lloyd's Log
The last 36 hours seem like a whirlwind. There was a great deal of "hurry up and wait" involved too. Weather along the route from Port of Spain, Trinidad, to Paramaribo, Suriname, kept me from taking off for quite some time. And then to add insult to injury, the local ham radio club found me and got to the airport to greet me … just as I had completed security screening and was feeling the pressure to get underway to Paramaribo. I'm really sorry I had to blow you off! I promise to come back this winter when I head down to Dominica.
(Anyone want to join me flying down to the Caribbean this winter, hmm?)

Got airborne into the tail end of the weather I had been avoiding but as I suspected from the lack of lightning detected by the storm scope, it was just fat rain clouds. An instrument departure into the rain ended with popping into the nearly-clear blue sky after about 20 minutes. The weather was great all the way down.

As you can see in the pictures, the arrival at Paramaribo was during a beautiful sunset. When I landed I was met by Akash Niddha who has been following me here and who works in the control tower at the airport. With his help, and then help of his friend who was the airport operations manager (help me out here Akash), getting through customs and immigration was a breeze. (You guys need to post your pictures! I didn't have time to take any.) They took care of me and got me on in a taxi headed for the city, which is a one hour taxi ride away.

In the ride to and from the city, and again while walking around, I was struck by how Paramaribo is the very definition of the term 'diversity'. I couldn't count the number of churches, mosques, and Hindu temples I saw, some side-by-side. I went out to dinner (Burger King — yes, I know — but it was next to my hotel and I was HUNGRY) and I think every human phenotype was represented there. Very interesting. I'll have to go back some day and see more.

Getting out of there today was more of a challenge than getting in. Add that to time pressure due to the long flight today, and things did not go well at first. (All my fault, well mostly.) Breakfast at the Hotel Palacio (beautifully done but very old-school) was great. The staff made things easy and pleasant. The cab ride to the airport on an early Sunday morning was nice too. It was when I got to the airport that things didn't go as planned.

The first inkling that there was going to be a problem was when I went to where Spirit was and they told me, in no uncertain terms, I had to go through regular passenger screening. (Yes, I was carrying my Leatherman.) So I walked right past the rest of the people at screening and up to the security people and said, "flight crew." Turns out there is a separate screening for flight crew. Turns out they DO have a conniption when you try to carry a knife through screening. But I was up front and finally convinced them that I was flight crew, just in the wrong place and we got it all straightened out … until I discovered my phone was missing.

The head of security ushered me back through and we looked for my phone. Must have been 10 people looking for my phone. "What is the number and we can call it!"

"Sorry, I never activated service while here."

Eventually I gave up and accepted that I had lost my phone. I got through Immigration, landing fees, filing a flight plan (just a little different from up here, e.g. you need to put the times of crossing the boundaries into the route section — yes, I know but I forgot), and getting customs done. They were surprised and a little taken aback when I wanted to pay in Suriname dollars. Seems most flight crews use US dollars and that was what they had for change! Somehow three of us and a calculator figured it out. In the end it came to something like all my Suriname dollars plus something like $86.21 USD. I handed the customs officer a $100 bill, two dimes, and a penny. The look on his face when I handed the dimes and penny was priceless. "What is this," he said as he looked at the dimes closely. No, they will probably never use that 21 cents, but I did get 14 US one-dollar bills back along with a monologue about the sensibility of paper money.

Back out to the plane where the women who handled my flight plan tagged along. They got to sign the plane and get their picture taken with the dashing pilot. I started to pull my cables out of my backpack to plug in the iPad and there was my iPhone, in the cable pocket. I had put it in the wrong pocket. We all laughed.

So I launched. I got cleared to 23000 feet and in a pretty straight line for Fortaleza. But it was pretty clear that they don't talk to many single-engine propeller-driven aircraft. When asked for my time at the boundary I consulted the FMS which said I would be there in about 1.5 hours. The controller said, "No, that is not right. That is more than an hour away." It took two tries to get her to understand that I am NOT a jet and I do not travel at 400 kts. And that set the tone for the next 9 hours.

As I was crossing the Amazon I opted for a slightly more direct route to São Luis (SLI – the other SLI) rather than cutting inland over Belem (BLI). It was granted but not until the controller confirmed it three times, "Are you sure you want to go directly to SLI? Really?" After all, it was a 500 nm long "short-cut". (Brazil is big, really BIG.)

Nine hours is a long time to sit. I can only imagine what the next legs are going to be like. (I have a couple of 12 hour legs coming up shortly.) Fortunately Sprit gave me something to do. At first it seemed like the Stormscope was working but then as I was threading my way around thunderstorms, they didn't show up on the Stormscope until AFTER I had passed them. I ran the self-test and it reported "STRK ERR". I don't think it is supposed to do that. Fortunately the Iridium Satphone IS working well and I was able to shoot off a query to Brian Kendrick who is the Mooney Wizard behind getting Spirit ready for this trip. He is going to check with the manufacturer while I dig into Spirit looking for obvious things, like a cable that has come partly unplugged.

A more interesting thing happened as a result of crossing the equator. My iPad, which is connected to and gets its position from the ADS-B traffic tracking system, began reporting the position of the airplane as the north pole. (I kid you not. Suddenly my iPad said I was at the North Pole.) So I got Foreflight to tell me the LAT/LON. Instead of being 1 degree south, or -1 degree, it was reporting our latitude as being +359 degrees. Yeah, I think it is a bug. (And if you are into programming, you will understand the logic of that.) Yes, there is a work-around but it is not as convenient and it does away with my traffic display. I think the L3 Lynx ADS-B system has a bug in it.

(I had better finish this quickly as I can barely stay awake.)

The rest of the flight was uneventful but I did find a possible problem with the HF radio's antenna tuner. We'll see how that goes too.

So, skipping to the end, the approach to Fortaleza is the easiest ILS I have ever shot. Getting through Immigration and Customs was a breeze. I was met by new friends André and Roberto, who whisked me off to a friend's beautiful hotel on the beach where I have been invited to stay gratis. It was a lovely dinner filled with all kinds of airplane talk. It was the perfect end to the day.

Let's see what tomorrow brings!
Suriname, Historic 1997:
Suriname, Historic 1937:
Lloyd's Log
So, what is it like, sitting in a single-engine airplane, flying in a straight line, for 6-8 hours at a time, with the autopilot on? You'd think that I would have a lot of free time or fall asleep from boredom, right? Surprisingly, that is not the case.

For some reason I find myself fairly busy. I spend a fair bit of time monitoring the engine. The engine in my Mooney M20K is fairly "old school" with no automatic controls at all. The slightest change is fuel-air mixture causes the engine to produce slightly more or less power on a random basis. This causes the turbocharger to speed up or slow down, changing the power even more. This form of positive-feedback is called "bootstrapping" and if I don't catch it and adjust for it, the power and speed of the plane can change rapidly from my desired settings. So I am watching the engine gauges and making small settings fairly often.

In addition I am always listening to air traffic control (ATC). Even if they are not talking to me I have to catch the sound of my call sign, november nine one six bravo lima, in case they do call. But I am also listening to the conversations with other aircraft about weather, routing, changes in radio frequency, etc. It helps me maintain a picture in my head of what is going on around me.

I thought that I would be able to spend more time talking to other amateur "ham" radio operators but I am finding that it isn't working out that way. The few hams who have ALE radios definitely get a contact because the radio manages that. I don't have to listen to the static and noise until the radio does make a contact. Even then I have to keep it short because the sound of either ATC or the HF tends to interfere with the sound from the other radio. I just can't listen to two things at once and , frankly, ATC takes precedence.

In a couple of days I will be heading out over the Atlantic for Dakar, Senegal, Africa. I hope that, since I won't have to listen to constant ATC conversations other than aircraft checking in to give position reports on HF, I will have more freedom to make HF contacts. We'll see. Even then I think it more likely that I will make more contacts using ALE than calling CQ.

Still, I will try to keep making HF contacts when I can. Just don't expect too much unless you are running ALE.

(Hams: if you do sound-card digital modes, you have everything you need to run PC-ALE. Pick up a copy of PC-ALE, install it, set it up, and look for my beacons to tell you that I am reachable.)

And it is time again to head for the airport and get Spirit ready for the next leg, this time to Paramaribo, Suriname. I have to take on nearly a full load of fuel because I have been told there is no 100LL avgas to be had in Suriname. I need to take off from Trinidad with enough fuel to make it all the way to Fortaleza, Brazil, 1620nm, with a stop in the middle, without refueling. Since climbing to altitude consumes an extra hour's worth of fuel, I have to carry fuel for approximately 1800nm. I also have headwinds slowing me down which requires even more fuel. My flight planning software says I need 130 gallons for the trip so I will carry 150 gallons to give me two hours of reserve fuel. I will be over the Atlantic Ocean nearly the whole way but never more than about 60nm from land should a problem arise. It is when I fly across the ocean that I insist on having a 3 hour reserve to accommodate any unforeseen circumstance.

Of course, there is customs, immigration, flight-plan filing, weather briefing
Caripito, Venezuela, Historic 1937:
The story behind these rare photos:
I understand that you will be flying over eastern Venezuela tomorrow June 2, 2017. In 1937 I was  6 years old and my father was working as a salesman with Standard Oil Company of New Jersey here in eastern Venezuela. He took the enclosed pictures, I keep the originals. I am a radioamateur since 1970.  I am 86 years now and I enjoy radio, digitals, satellites, ISS etc…

 

Please give me the time and the frecuency when you departure from Puerto Rico either 40 or 20 meters. I will be very glad to QSO with you,

 73 de Manuel YV5MM

 Manuel Mosquera Ramírez YV5MM – YW5M – PRESIDENT
Asociación de Radioaficionados de Venezuela
Seccional "Santiago de León de Caracas"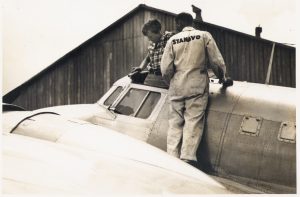 1937 Venezuela photos by Mr. Manuel Mosquera Soublette.
Trinidad 02-03 JUNE 2017:
Lloyd's Log
The best laid plans of mice and men …

Even thought today's leg is relatively short, 450nm, the Inter Tropical Convergence Zone (ITCZ) is presenting me with severe weather on that route. So, the planned departure at 11AM local time (1500z) is not going to happen. I have to wait and see how the weather dissipates. Looking at the satellite images of the cloud tops suggests that it is weakening as it moves NW. Unfortunately it is pretty much right across my route to Paramaribo.
So I wait.

This is something you learn how to do when you are a pilot. Entertaining yourself on the ground while you wait for weather to change is a fact of life.

If you want to get more information about weather and the routes I will be traveling, I recommend http://SkyVector.com. You can overlay satellite, winds aloft, RADAR, on standard aviation charts so you can see what I see.
Dominica 01-02 JUNE 2017:
Lloyd's Log
OK, time for a more wordy update. It has been a busy two days. Flying long legs is the quintessential definition of, "hurry up and wait", or is that, "Wait and then hurry up!" Obviously, once I take off there is almost nothing I can do to make the plane go any faster than it is going so everything else in the day just naturally follows.

I decided to bypass Puerto Rico's Isla Grande airport in favor of stopping at St. Thomas. For some strange reason fuel in St. Thomas was even less expensive than Ft. Lauderdale! I couldn't pass that up. Everything was great until it was time to leave. I had forgotten that, while the US Virgin Islands are part of the US, they are a duty-free port and have different Customs rules. My Customs filing from PR to Dominica was invalid when leaving from St. Thomas so I had to file all over again. This cost me about 30 extra minutes and was going to put my arrival at Dominica after sundown and the Canefield airport closes at sundown. I only hoped I would have enough light to land.
I needn't have worried. My friend Athie Martin got my friend Benoit Barduille, the CEO of the Ports Authority, to keep the airport open for my arrival! There was just enough light left for a safe landing, but I am glad I was not there 5 minutes later!

Did I say how much I love Dominica? I want to lead a group of pilots down there to show them just how great a place it is.

So on to today. Fae, Athie's wife, cooked me a lovely breakfast of fresh fruit (from their trees, picked that morning), superb coffee, a glass of juice of a fruit I don't recall, and the most wonderful banana pancakes I think I have ever had. Fae is one of the best cooks on the island! (You want to stay at Exotica Cottages and be guests of Fae and Athie Martin.) Athie and I made the rounds of various government agencies talking about ways to attract more pilots to Dominica. I was also interviewed for both radio and TV on the island and then sent off in a grand manner this afternoon.

The flight to Trinidad was uneventful but I had to deal with bad weather. I had to thread my way along a line of thunderstorms looking for a way to cross over in order to get to Trinidad. I finally found my hole and posted the picture of "threading the needle" between storm cells. The descent was through clouds and rain (nimbostratus) to the ILS runway 10 approach. Got some "actual" and got to start the approach so I get credit for another ILS approach.

So now I am at the Holiday Inn Express in Trincity. Heading over to the mall for some dinner and then a good night's sleep (again). Tomorrow is a short hop to Paramaribo in Suriname. Sunday's flight to Fortaleza, Brazil, will be the longest so far at 9 hours. I have headwinds. Oh well.

Stay tuned!
Miami Florida, USA, 1 June 2017
Lloyd's Log
On the ground at Ft. Lauderdale. Today is the 80th Anniversary of Amelia Earhart's formal announcement of her round-the-world flight and departure from Miami. Please take a moment to think about her and her effort 80 years ago.

Today's flight is from Ft. Lauderdale to Puerto Rico (Isla Grande airport in San Juan) and then on to Dominica tonight. I may may a side jaunt to St. Thomas to take on fuel because, quite frankly, fuel is cheaper there. (This is a complete surprise and one I may take because every little bit helps.)

Tomorrow's flight (June 2) will be short, from Dominica to Trinidad. In Trinidad I will take on nearly a full load of fuel because fuel is not available at my next stop, Paramaribo. I will need to "tanker" enough fuel to reach Fortaleza, Brazil, on June 4.

I'll do my best to post a video from Ft. Lauderdale before continuing.
USA, Test Flights, May 2017:
I just worked out the details for my International (ICAO) flight plans. The form is very complicated and there are lots of fiddling details necessary to describe the navigation and communications capability for the airplane. Well, it took me 3 hours and 5 versions before I finally came up with a version I can carry with me with all the details already filled in, leaving only the route data left to be added.

Anyone who thinks that the FAA's conversion from the domestic to the ICAO flight plan is a no-brainer has another think coming. Whew!
Lloyd's Log, 29 May 2017
My apologies for not keeping completely up-to-date. Things have been very busy getting ready to start the flight around the world.

Turns out that the aborted flight to Paris to commemorate Charles Lindbergh's flight was very useful even if it didn't happen. It was the test flight that was needed to discover some things that were not quite right with Spirit. Three things showed up:

1. The autopilot altitude hold was not working properly.
2. The HF radio, while working, was not transmitting voice, only data. Somehow the signal was not getting from the microphone to the radio.
3. The speed of the airplane was way down from normal.

Item one was straight forward — fly to Mineral Wells, Texas, and have Century Flight Systems, the manufacturer of the autopilot, fix the altitude hold. They did … and charged me an arm and a leg to do it. (I will post separately on this.)

Item 2 turned out to be a wiring error. The wire from the audio panel to the radio somehow got lost in the wiring bundle from front to back of the airplane. (Probably a mis-marked wire in the harness.) All fixed. For you hams out there, I have made a couple of contacts already and know that the HF radio is working really well, much better than I ever envisioned. I will have no trouble talking to ATC and ham radio operators around the world.

The last item, the speed, was troubling. There was no "smoking gun". Three causes were possible: aerodynamics, the engine, and the propeller. With all the work and all the new antennas, drag was a possibility. But drag usually saps top speed, not rate-of-climb so we eliminated that. The engine had been gone through and has new cylinders. It should be making full power. Temperatures and fuel flow values were correct so we were pretty sure it wasn't the engine. That left the prop.

This is a brand-new high-performance propeller that is supposed to outperform the original 2-bladed prop and my older, heavy, all-metal prop. It should be OK. But you don't know until you apply scientific method. Observation: the plane is slow and has reduced rate-of-climb. Hypothesis: the propeller is not performing properly. Experiment: measure rate of climb and speed at known power settings, replace the new prop with a stock prop, and repeat the test. Collect Data: the old prop shows 200fpm greater rate-of-climb and 10 knots more indicated airspeed at the same power setting. Conclusion: the new prop is not meeting expectations.

So, tomorrow (Tuesday), the old three-bladed prop is going back on. Not sure what I am going to do with my shiny new, expensive, lightweight, high-performance prop that doesn't really work. I will call the manufacturer tomorrow and take it up with them. They are very good and very reputable. We'll see.

So, I am on track to start Amelia Earhart's flight Wednesday, May 31, as planned, with a departure from Florida on June 1, exactly 80 years after Amelia Earhart. I am satisfied that we have worked out all the bugs and Spirit is really and truly ready to fly around the world.

Me? I never think I am ready. I just know that, once I get in that airplane and push the throttle forward to take off, I am in my element and all the worries will melt away. At that point I will be in the moment and dealing with reality as it impinges on me. No need to worry about what might or might not happen. Just fly the airplane.

Two days to go!
Photos of Aircraft Upgrade Phase in Early 2017