Videos, Radio, and Audio by Brian Lloyd and others

Oakland airport.
ATCHISON, Kan. — Exactly 80 years after Amelia Earhart's famous flight, a pilot from San Antonio, Texas has retraced her path around the world.
On Thursday evening, Brian Lloyd landed his Mooney 231 aircraft at the Amelia Earhart Airport in Atchison, Kansas and celebrated the completion of his journey.
Getting back on solid ground never felt so good for Lloyd, who traveled more than 28,000 miles on his trip. He began his adventure on June 1st, the exact day of the 80th anniversary of the day Earhart began her fateful trip with navigator Fred Noonan.
"I tried to adhere as much as I could to her schedule," Noonan said. "That's how I can say, 'This woman was a super person!' This was a hard trip!"
Lloyd says he has more than 50 years experience as a pilot. He was solo in the cockpit for as much as 17 hours at a time. He said he welcomed his stops along the way, where the various airports air traffic controllers, mechanics fuelers and others signed words of encouragement on his plane.
"Look at all these signatures and understand that I did not make a solo flight," he said to the crowd who welcomed him to Atchison. "I had hundreds of people helping me and making this all possible."
Lloyd started planning for the flight five years ago, and bought his airplane specifically for the around-the-world trip he made to honor Earhart.
"Facts still remain that her legacy was important then when she was doing what she was doing when she was alive," said Travis Grossman, interim director of the Amelia Earhart Birthplace Museum in Atchison. "It's important now. She was a real glass ceiling breaker and a remarkable woman.
Lloyd says he was honored to pay tribute to Earhart.
"I walked 28,000 miles in her shoes. After having done that, after finding out what it took for me to do that, my respect for her is 1,000 times what it was before."
After the final leg of his trip, Lloyd says he was going to stay the night in Atchison.

Oakland arrival of Brian Lloyd in his aircraft Spirit. Video by Vaibhav Sharma.

Listen to audio. Project Amelia Earhart. Spirit N916BL departing Kona Gnd/Twr (LiveATC.net) Jul-30-2017-1630Z. Recorded by Phil Karn.
Pilot Lands in Hawaii near end of Amelia Earhart tribute flight Hawaii News Now – KGMB and KHNL
HONOLULU (HawaiiNewsNow) – Nearly two months ago, aviator Brian Lloyd took off from an airfield in Fort Lauderdale inside a single engine aircraft.
The 63-year-old flight instructor from San Antonio, Texas, is following the flight path of Amelia Earhart's 1937 round-the-world attempt. He landed in Honolulu on Monday night.
"After having flown literally 28,000 miles in her shoes, my respect for her has risen a thousand fold," Lloyd says.
In his plane, which is named Spirit, Lloyd has already touched down in 20 different countries during what he calls 'a very difficult flight.' But it's also been memorable: over Brazil, for example, a military jet challenged why he was in that airspace.
In the skies near New Zealand, his engine suddenly quit over the ocean.
"Through using the electric fuel pump and manipulating controls, I was able to get the engine running well enough to get me back to New Zealand," Lloyd said.
Earhart was heading toward Howland Island when she disappeared. Lloyd dropped flowers over the site.
"To me, it was important to do that," he said.
His longest time in the cockpit was 17 hours, from Pago Pago to Honolulu. During his journey he has made many friends talking to some – mid-flight over a ham radio.
At every stop, well-wishers and people who have aided his journey autograph the exterior of his airplane.
"There is no such thing as a solo flight," he says. "This flight would not be possible without the assistance of literally hundreds of people on the ground everywhere."
Lloyd estimates that it cost around $60,000 to re-trace Earhart's route. Friends helped, but he put up most of the money himself. On Saturday he leaves Hawaii for the last leg to Oakland – and a final touch down.
"I don't plan to kiss the ground, but I may do a little dance when I get there," he said.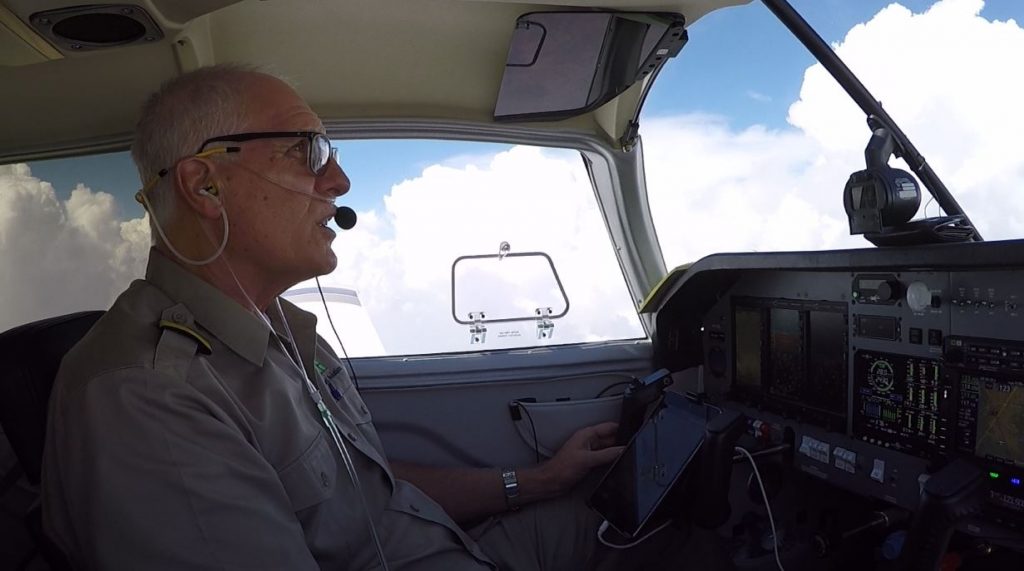 Video clip above: Brian Lloyd solo pilots his airplane "Spirit" round-the-world for the Project Amelia Earhart 80th Anniversary Flight. Brian in the cockpit at high altitude wearing oxygen mask while in flight from Karachi Pakistan to Kolkata India on 16 June 2017. Brian Lloyd is the first solo aviator to fly the historic Earhart equatorial route. Video by Brian Lloyd ©2017 Brian Lloyd CC-BY 2.0

Video of Brian Lloyd and Spirit in and around Fortaleza Brazil during early June 2017, by TMA Fortaleza Planespotting Team. ©2017 TMA Fortaleza Planespotting Team CC-BY 2.0 – used by permission.
Listen to The RAIN Report audio clip.

Fueling Spirit by hand pump at Aero Club de Dakar in Senegal, the same way that Amelia Earhart did: "Well, we have to fuel the airplane a little differently than we do usually."-Brian Lloyd, 10 June 2017.
video ©2017 Brian Lloyd CC-BY
Brian Lloyd in his airplane Spirit, taking off at Fortaleza Catuleve airport Brazil on 7 Jun 2017, enroute to Natal Brazil. video by by Demerval Diniz Filho

Amateur Radio Newsline interviews Brian Lloyd. Released 7 June 2017.
Thanks to Akash Niddha in Suriname for this video.
Audio: Brian Lloyd in Dominica, Q95FM interview, by Atherton Martin.
Print article at: http://www.q95da.com/news/us-aviator-landed-at-canefield-thursday-recreating-amelia-earharts-historic-solo-cross-atlantic-flight

Rosseau, the Capital of Dominica, just after take-off from Canefield Airport on 2JUN2017. Video by Brian Lloyd.
Test flight in USA during May 2017.